Enjoy a passive residual ca$h income directly into YOUR bank account every month
while helping other people by giving away a FREE Card and APP...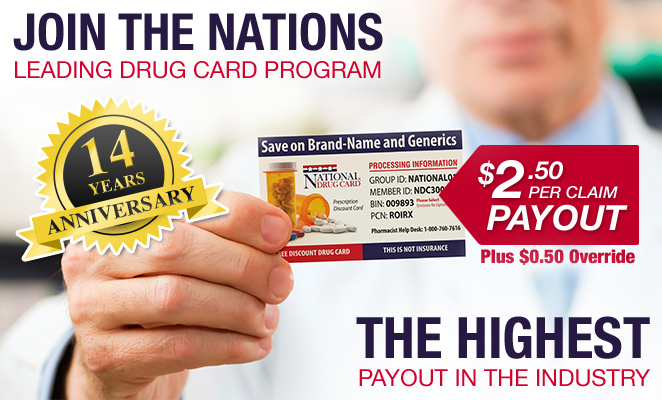 Since 2005, the National Drug Card — the nation's leader in Pet and Human discount drug cards — is pleased to offer our FREE Affiliate Program.
With millions of insured and uninsured Americans paying full price on their healthcare costs, there is a huge demand for our prescription drug savings card program. The NDC Drug Card and FluffyRx Card are used to save consumers all over America millions of dollars each year.

NDC GroupRx/FluffyRx Affiliate Program is FREE to Join!

Earn commissions when the FREE cards you distribute are used to fill prescriptions at our nation's pharmacies. Ask your friends and family to help you distribute the cards and get paid for their efforts, while they earn extra income for themselves.

Join today to create your own successful business. Earn the highest paid commission in the industry — and receive a passive residual income through the monthly commissions today!
» Key Features of Program» How The Program Works» Commissions & Bonus Levels» Who Can Earn a Passive Income?
The oldest Free Drug Card program in the nation and HIGHEST payouts in the industry.
Bi-Weekly Claims report via affiliate web portal.
Commission Payout each month, with guaranteed payment on Net-Paid claims.
Free personalized Mobile App for Apple and Android devices for affiliates producing at-least 50 monthly claims.
Proprietary medication price search engine, lowest price guaranteed.
No monthly fees, charges or set up fees.
As an affiliate you are provided a unique ID number.
You can hand out drug cards or have people print the drug card from your affiliate page.
They can also download our Mobile App and activate it using your ID.
Customers will show your card to their pharmacist when purchasing their prescribed medications.
Because the card information is stored within the pharmacies computer system, you earn a monthly residual commission every time the card-holder purchases or refills a prescription.
Your income is potentially unlimited through our generous commission struction — the highest in the industry!
Level 1: 0 to 500 claims = $2.00
Level 2: 501 to 1,500 claims = $2.25
Level 3: 1,501+ = $2.50


Plus a $0.50 Sponsorship Override
Pet Organizations, Clubs, Charities, and Services
Animal Rescue and Kennels
Digital Marketers and Bloggers
Religious Organizations, Non-Profits, and Fundraisers
Unions and Labor Organizations
Agents, Brokers, and Benefit Consultants
What Affiliates/Agents Receive
As an affiliate you will receive a unique Group ID #.
An affiliate web page for marketing your Cards and Apps.
Mobile Apps for Apple and Android devices that are activated by your unique Group ID #.
Secure direct deposit payments to your bank account through ADP. ADP has implemented an information security program that contains administrative, technical and physical controls that are designed to safeguard your Personal Information.
How We Support Affiliates
Free co-branded cards, Website, and mobile APP for Affiliates producing at least 50 monthly claims.
We maintain a toll-free pharmacy & member help line.
We provide marketing material to support your efforts.
Quality printed cards (optional).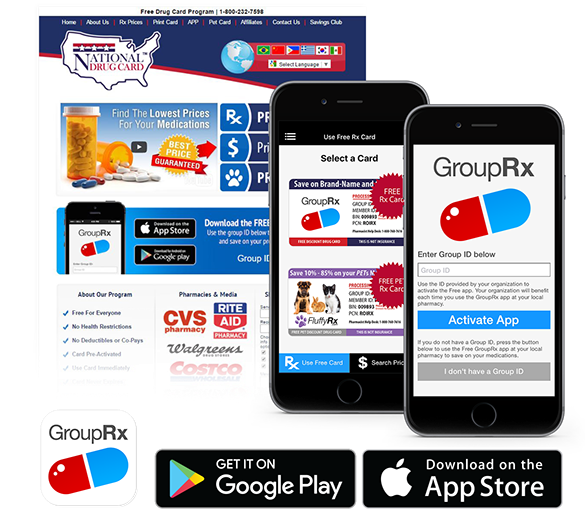 THIS IS NOT INSURANCE—FREE DISCOUNT DRUG CARD


NDC • 2020 Pennsylvania Avenue • Department 601 • Washington, DC 20006
© Copyright 2005-2019. All Rights Reserved.
THIS IS NOT INSURANCE. Discounts are only available at participating pharmacies. By using this program, you agree to pay the entire prescription cost less any applicable discount. Savings may vary by drug and by pharmacy. Savings are calculated based on the pharmacy's usual and customary price. National Drug Card/FluffyRx is not sponsored by or affiliated with any of the pharmacies identified in its price comparisons. This data is for informational purposes only and is not meant to be a substitute for professional medical advice, diagnosis or treatment. NDC is not offering advice, recommending or endorsing any specific prescription drug, pharmacy or other information on the site. All trademarks, brands, logos and copyright images are property of their respective owners and rights holders and are used solely to represent the products of these rights holder. Our programs do not guarantee the quality of the services or products offered by individual providers. NDC provides no warranty for any of the pricing data or other information. Please seek medical advice before starting, changing or terminating any medical treatment. We do not collect or sell your personal information.

Call the member toll-free number 1-800-232-7598 to file a complaint related to our programs. Administrative by Envision Savings.

All text, images and other content of this web site and materials are protected by copyright law and shall not be used, adapted or reproduced in any medium without the express, specific written consent of owner.