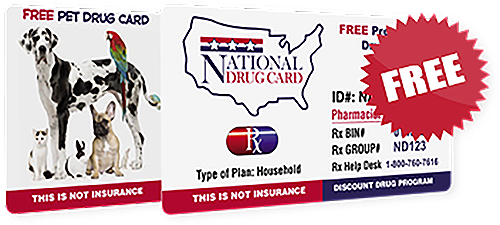 Pet Medications at Your Local Pharmacy

It comes as a surprise to pet owners to find out that they can fill many of their veterinarian medication at a local pharmacy. While some drugs are for veterinarian use only, many are the exact same drugs used in human medicine, or close equivalents. The price difference between the human and veterinary medications can be substantial.

Example: "I paid $72 for a veterinarian pain medication that, when I refilled it at my local pharmacy only cost me $9 Great Savings — Thank you!" ~~ C. O'Neal from Pennsylvania.
Please choose your option below to receive these valuable FREE cards.
INSTRUCTIONS: How does this valuable FluffyRx National Pet Drug Card work?


All you need to do is ask the veterinarian for a written prescription and take it to the pharmacy along with the Pet Drug Card. It is important to ask the veterinarian for the written prescription (before you check out) while you are in the consultation room with him/her and your pet. This will let the vet know that you prefer to have a written prescription that you can take to the pharmacy rather than have him/her fill the prescription at their office.

Please Note: Not every pharmacy is equipped to provide every animal medicine. Please check with your pharmacy to see if they can provide the medications you require for your animals. Pet drug card can also be use with live stock animals and other pets.


THIS IS NOT INSURANCE—FREE DISCOUNT DRUG CARD


NDC • 2020 Pennsylvania Avenue • Department 601 • Washington, DC 20006
© Copyright 2005-2019. All Rights Reserved.
THIS IS NOT INSURANCE. Discounts are only available at participating pharmacies. By using this program, you agree to pay the entire prescription cost less any applicable discount. Savings may vary by drug and by pharmacy. Savings are calculated based on the pharmacy's usual and customary price. National Drug Card/FluffyRx is not sponsored by or affiliated with any of the pharmacies identified in its price comparisons. This data is for informational purposes only and is not meant to be a substitute for professional medical advice, diagnosis or treatment. NDC is not offering advice, recommending or endorsing any specific prescription drug, pharmacy or other information on the site. All trademarks, brands, logos and copyright images are property of their respective owners and rights holders and are used solely to represent the products of these rights holder. Our programs do not guarantee the quality of the services or products offered by individual providers. NDC provides no warranty for any of the pricing data or other information. Please seek medical advice before starting, changing or terminating any medical treatment. We do not collect or sell your personal information.

Call the member toll-free number 1-800-232-7598 to file a complaint related to our programs. Administrative by Envision Savings.

All text, images and other content of this web site and materials are protected by copyright law and shall not be used, adapted or reproduced in any medium without the express, specific written consent of owner.